Home Incense & Herbal Enchantments Candle Magick Pentacles & More

Amulets & Talismans Tools for Practitioners Recordings
Excellence and Authenticity in Witchcraft and Magickal Supplies since 1981 e.v.
"Traditional Magicks for the New Aeon"
P.O. Box 8163 Salem, Massachusetts 01971 88 Wharf Street Pickering Wharf
Phone: 1-800-Mastery ( 800-627-8379 ) Fax: 978-744-3296
email us
Who is Artemis?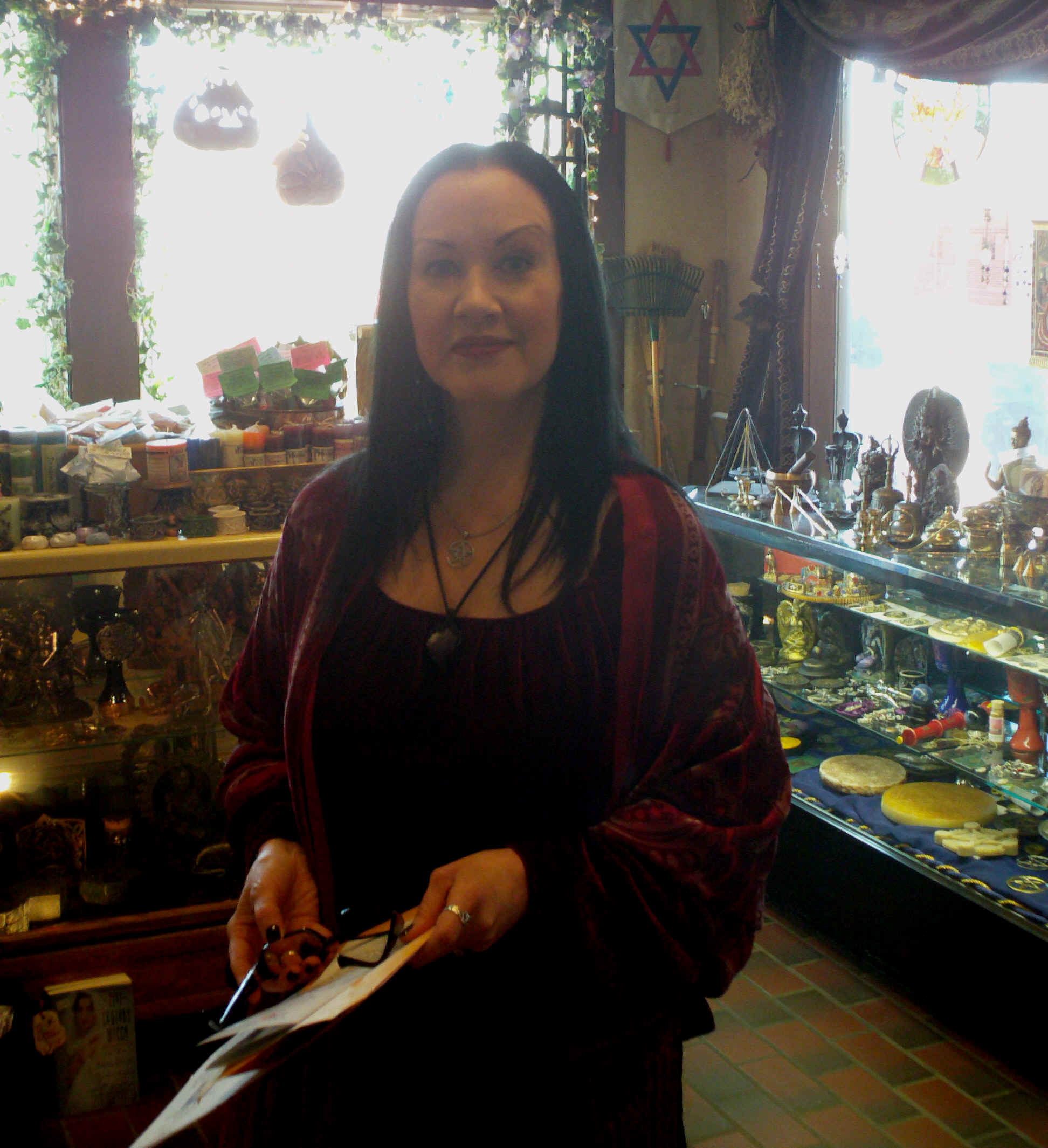 Psychic Medium Artemis
Reads at at NU AEON

in The Cosmic Connection Temple of Stars:
A Gallery of Art, Light & Magick

After several very successful and exciting years hosting Psychic Medium ARTEMIS, this gifted and multi-faceted Psychic Reader will again be joining us at Nu Aeon during this Season. Her schedule at NU AEON is flexible, on site usually Saturdays (sometimes Sundays as well) from 2:15 p.m. through closing. We encourage you to make an appointment when you are planning your visit to Salem and as schedules allow, you may also walk in without an appointment.
Artemis is an Intuitive Psychic. Her gifts that she exercises to aid in a Reading are Clairvoyancy, Clairaudiance, Psychometry, and Mediumship. Artemis is also an Empath which means she is able to tap into a client's feelings and emotional state. Her first Psychic experience that she remembers occurred at age three. It wasn't until she was around age fifteen that she realized that she had an ability to see events that were going to occur in a person's life such as births or deaths. For a long time she hid her Psychic abilities. But over time she embraced them as gifts given to her from Infinite Spirit/ God/Goddess. Eventually she began reading at many New Age and Holistic expo's throughout New England . Artemis has been reading the Tarot for thirty five years. The Tarot is a tool for divination that opens up her link to Spirit. The Tarot deck that Artemis chooses to use in her readings is the Goddess deck. Every card is graced with a depiction of a beautiful God or Goddess or other lovely mythical symbol. There are no dark cards or skeletons associated with this deck. With her soft spoken, gentle demeanor, her Psychic skills enable her to tap into a client's emotional state, allowing her to delve right into the matters at hand which bring one in for a reading. Artemis has helped many on their magickal journey in areas of career, love and relationships, finance, as well as self empowerment. One of her goals is to assist police in missing children cases.
What do the terms Clairvoyant, Clairaudiant and Psychometry mean?
Clairvoyant is having the ability to see things that are not here on the Earth Plane. For example, events such as births, pregnancies, and occurances from your past present and future as well. Clairaudiant is the ability to hear messages from your spirit guides or loved ones that have passed on. Artemis is also a Psychometrist which means she can pick up vibes from objects such as a piece of jewelry
How can an intuitive reading help YOU?
Artemis' goal is to guide one on their spiritual path, to enlighten, and to help with issues that may be preventing them from moving on in a positive direction. She aids clients in overcoming fears that prevent them from attaining their own goals. She has helped many people in areas of love, finance, and self empowerment. Always remember, what is given to you in any reading, is meant to guide you, it is not law, as you are the master of your own destiny.
What happens if she senses illness or misfortune?
If Artemis senses someone is ill, she will encourage them to seek medical help in whatever area of the body she senses is in need of attention. Of course if she feels someone is in jeopardy and in need of protection, she would be honest, and suggest they take extra safety precautions, and if they felt threatened, to call the appropriate authorities for assistance. Better safe than sorry so the saying goes.
"I believe that we all posses the ability to develop our own intuitive skills and feel blessed that I have been aware of my connection to Infinite Spirit/ God/Goddess from a very early age. I have been told by numerous clients that through one session with me they were able to find the answer to life long issues that even a Therapist could not! "
Whether you are looking for life direction or guidance in a personal matter, an intuitive Psychic Tarot Reading with Artemis will aid you on your spiritual path to success.
Reading Prices:
20 minutes - $45.00
30 minutes - $60.00
1 hour - $120.00

*If you visit NU AEON and ask for a reading while Artemis is there, we will ask for payment at that time.
* If you make an appointment for a reading with Artemis for a specific date by contacting us by telephone 1-800-Mastery (800-627-8379) or while in the shop, we may take your credit card information and secure a time and place for your reading. We will not debit your card until you arrive at NU AEON for your appointment.
* If you need to cancel or reschedule for any reason please give us at least 48 hours notice via telephone 1-800-Mastery (800-627-8379) or email wlpssp@comcast.net We will confirm receipt of this cancellation or rescheduling request right away.
*If we do not get a cancellation or rescheduling request from you at least 48 hours before your appointment we will assume you are coming in and Artemis will be at NU AEON to read for you.
*On the day and hour of your pre-arranged appointment with Artemis, if we have asked for your credit card as confirmation, and you do not show up, we will debit your card a non-refundable 100% of the reading fee.
Blessed Be and we hope you come by for a reading with Artemis in The Cosmic Connection Temple of Stars!